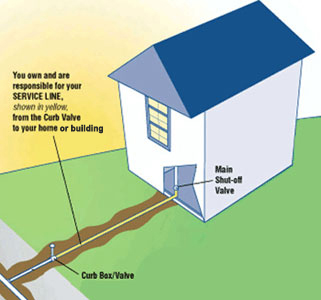 Trenchless technology is a type of subsurface construction work that requires few trenches or no continuous trenches. It is a rapidly growing sector of the construction and civil engineering industry. It can be defined as "a family of methods, materials, and equipment capable of being used for the installation of new or replacement or rehabilitation of existing underground infrastructure with minimal disruption to surface traffic, business, and other activities."
We provide trenchless technology service for Water line repair and replacement in Northern Virginia including: Fairfax, Falls Church, Arlington, Alexandria, Seven Corners, Falls Church, Colonial Village, Pentagon City, Crystal City, Springfield, Annandale, Clarendon, Fort Myer, Rosslyn, Va. Call to schedule a free estimate or fill out our online form.
This process presents a less costly and more efficient way to repair underground water line pipes. It allows us to repair faulty drain, sewer, drinking water and steam pipes without excavating underground systems or disrupting the foundation. Trenchless is the less expensive, less time-consuming and environmentally superior approach to rehabilitating your water line pipes.
We specialize in quickly and efficiently repairing and/or replacing underground water lines. Our professionals will have clean water running back into your property in no time. We use this method of water line installation whenever possible and often saves our customers the time, energy and money required to fix their landscape following a water line leak or failure.
Benefits of Trenchless Service

Significant cost savings over conventional excavation techniques
Reduces downtime, and little disruption to normal routine
Allows us to replace you pipes without destroying your landscape
Any mold or asbestos that may exist will not be exposed

We are proud to be an Accredited

Better Business Bureau Business member.
CLICK HERE for our report.